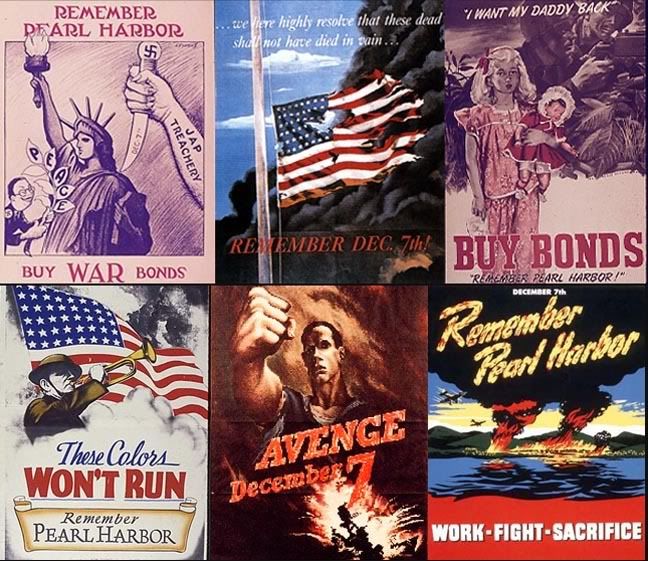 This masterlist will need to be re-done with all the good new posts flushing out the old over time.
New posts:
->
McCollum Memo: Analysis
: A more in-depth and balanced examination that I had up previously of this perhaps pivotal document.
->
Former Naval Persons
Churchill, Roosevelt, and Voyages to War. Circumstantial at best as evidence, but a cluster of intrigue worthy of a post here.
->
The Battle of Pearl Harbor: Alternate Outcomes
Important post, in response to the objection over the sacrifice required in a "FDR knew" conspiracy theory. Hint: Massive loss was actually necessary.
->
By Special Request: The Move to Hawaii
Admiral Richardson and the Fleet's relocation in 1940.
->
A "Restraining" Influence
On the reasons for the fleet's retention at hawaii. Hint: Adm. Richardson didn't buy it.
->
A Thin Diet For Kimmel - And Genda
A breakdown of Pacific Fleet depletion, April-December 1941. Result: 50% reduction of vulnerable warships.
->
The Carriers Controversy
100% reduction on the morning of the attack.
->
Walking Right Across the Broken Code Story
Regarding Japanese naval code JN-25 and claims US "cryppies" had broken it prior to Pearl Harbor. Hint: unsubstantiated, at best.
->
The Message We Missed?
Details on the Pearl Harbor striking force's order to sail and questions about its interception.
->
The Vacant Sea: On FDR's Order?
On allegations the route of the Pearl Harbor striking force's path was intentionally cleared on order from Washington. Hint: it's a false claim.
->
The Bomb Plot Messages
Vital intelligence that Pearl Harbor was being cased for attack, withheld from Hawaii. Perhaps the biggest intel "blunder" of all.
->
The Winds Messages Controversy
Anticipated trivial intelligence of no particular value that was eagerly watched for but never transmitted.
->
Dereliction of Infamy
: Mock book review on "Kimmel, Short, and the Conspiracy to Trick FDR into Fighting Stalin's War with Japan."
->
Pearl Harbor Discussions
Links to forum threads (JREF) I've started to discuss the issue.
Old Posts worth keeping up [take these with a grain of salt]:
America at a Crossroads.
After Pearl Harbor
: What a Catalyzing Event Looks Like - from Pearl Harbor through WWII and into the Cold War and the National Security State.
Never Mind
: Stinnett just sort of drops the issue of provocation after 9/11. What's up with that? check out
the "Bush Family 12/7-9/11 Circuit" post
for some possible clues.